At microgreen-mats.com, we take pride in offering high-quality hemp microgreen mats at wholesale prices. Our mats are designed to revolutionize the way microgreens are grown and used across various industries. These mats serve as an ideal medium for cultivating microgreens, finding applications in culinary ventures, health-conscious endeavors, and decorative presentations. Whether it's adding a burst of flavor to dishes, infusing nutritional value into diets, or enhancing the visual appeal of spaces, our hemp microgreen mats are versatile tools with countless applications.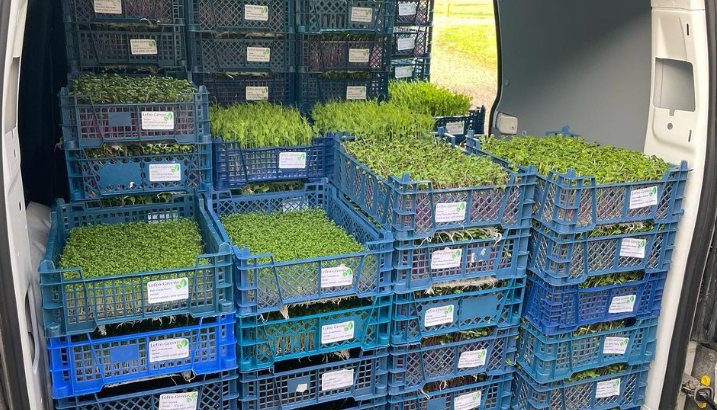 What sets our hemp microgreen mats apart is their organic nature and sustainable production process. We prioritize eco-friendliness by utilizing organic hemp fibers, ensuring that no harmful chemicals or pesticides come into contact with your microgreens. This commitment to organic practices not only benefits the end consumer but also promotes environmental well-being. Moreover, our mats stand out because they require no adhesive application during the manufacturing process. This ensures that the microgreens cultivated on our mats remain pure, free from any potential contamination that adhesives might introduce. The result is a natural and healthy growth environment that translates into the highest quality microgreens.
With two decades of experience in the industry, HempMicroGreens is proud to provide hemp microgreen mats at wholesale rates without compromising on quality. Our extensive expertise has allowed us to refine our production techniques, ensuring consistency and excellence in every mat we offer. Thanks to our longstanding presence in the market, we have cultivated strong relationships with suppliers and streamlined our processes, enabling us to offer superior pricing to our valued clients. When you choose HempMicroGreens, you're not only choosing a premium product but also a partner that understands the intricacies of microgreen cultivation and is dedicated to your success.
We understand the needs of businesses seeking top-notch microgreen solutions at wholesale quantities. With two decades of experience in the industry, we take pride in offering high-quality hemp microgreen mats at competitive wholesale prices. Our mats, designed to revolutionize microgreen cultivation, find versatile uses across culinary, health, and aesthetic domains. Crafted from organic hemp fibers, these mats ensure a natural and toxin-free growing medium, all without the need for adhesives that could compromise the purity of your microgreens. Thanks to our deep expertise and longstanding presence in the market, we are able to provide superior pricing on our exceptional wholesale hemp microgreen mats, making us your reliable partner in microgreen success.